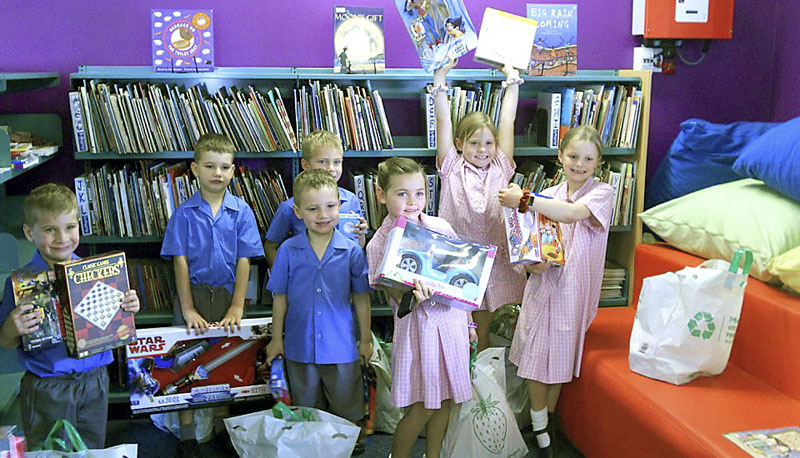 HEADING out to the central west of the state regularly now for six years to volunteer with Frontier Services which supplies support to farmers, Revesby's John Bestel is only too happy to help out with carting hay, driving farm vehicles, mechanics or even housework.
"I had an idea just before Christmas that I should ask companies to donate items to help our farmers of the future," he said.
Mr Bestel, 76, then proceeded to collect a range of drinks, lollies, school items and Christmas gifts and bag them up for the 75 children attending St Columbus and Yeoval Central (360km south west of Sydney), along with 26 younger siblings.
"I then drove out to the schools on the first and second day back this year and explained these gifts were from their city friends who cared about them and wanted to help knowing their families were doing it tough in the drought," he said.
"The children were so excited; absolutely blown away, it was so fantastic to see the looks of surprise and delight on their faces and made all of my efforts very worthwhile.
"To be able to make a difference knowing they would have missed out on Christmas a little bit was wonderful; they were tickled pink.
"I really want to sincerely thank all of the companies who donated the items to make this project such a success."
The companies and their representatives as well as individuals that donated were as follows: Salvation Army Campsie, Leanne and Clayton; TruBlu Beverages Condell Park, Cherie; Officeworks Punchbowl, Katie; Woolworths Revesby, Josephine; Johnson's Confectionary Kogarah, Helen; Lolliland Smeaton Grange, Joseph; Matthew Bestel Helensburgh; Kimberly-Clark Australia, Customer Service; and Sanitarium Central Coast.
WITH rural communities needing visitors, Frontier Services volunteer John Bestel invites cityslickers to enjoy a day in Yeoval and support the drought-stricken: "If you turn left at Molong and follows the signs to Yeoval, about 70km from there, you will soon come across 'Animals on Bikes' created by farmers and made out of everyday items, with an impressive 'dinosaur' made out of tyres.
"Once you arrive in Yeoval, you can drop into the friendly old pub or the wonderful coffee shop which is home to many birds, as well as the Banjo Patterson Museum and make a day of it."